Increase distance between cars by scores
MeBeSafe's second distance-keeping measure could double the use of ACC. Accidents often occur when drivers are too close to the one in front of them, and many drivers do so without knowing it. Adaptive Cruise Control always keeps the distance safe, but it is not always used. This is MeBeSafe's second way to mitigate this by soft measures.
Increase distance between cars by increasing use of Adaptive Cruise Control
A scoreboard with the drivers who used ACC most last week, showing the driver their own score and rank.
The use of ACC was increased by 118% to 30.7% of the time.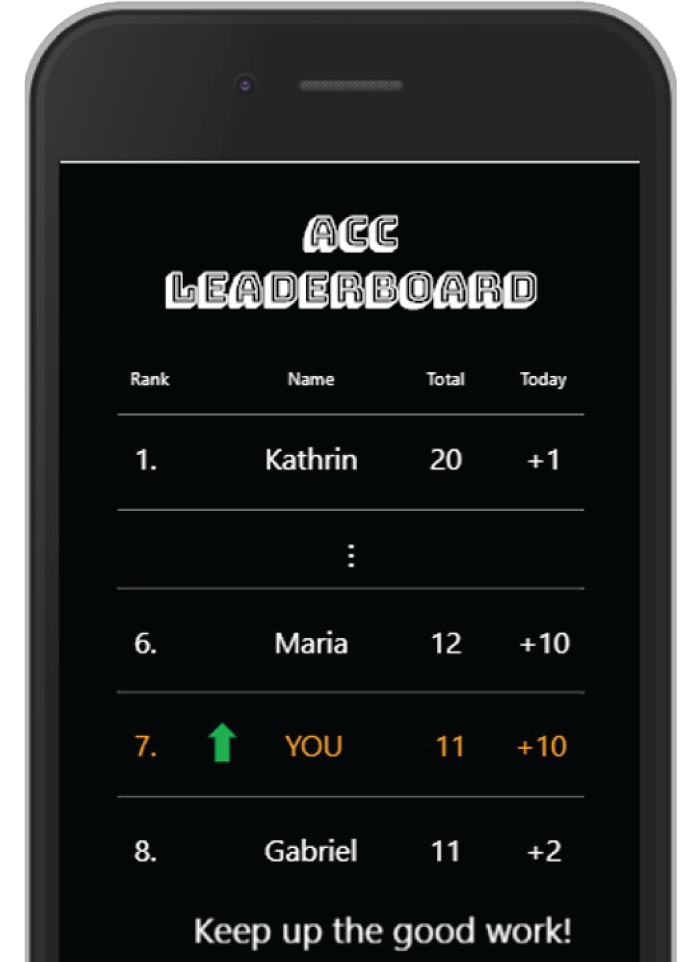 In the situation of today, Adaptive Cruise Control (ACC) is turned on by the drivers, and MeBeSafe's field test showed that test drivers have it on for 14% of the time. Two measures were tested to increase their usage, and this is the second one.
The second measure is based on a scoreboard, showing an anonymised list of the drivers who have used ACC the most during the last day. Below the list, you can see your position on the list and how much that means in minutes. Similar to the first measure, it is also displayed on a screen inside the vehicle.
The measure applies to people's love for games and competition as an alternative bias.
The gamification scoreboard led to ACC being used 31% of the time, an increase by as much as 118%.
The two measures had different effects on different people. Some responded much better to one of the measures, and few seemed to have an equal reaction to both.
The test was carried out on 49 participants, with a baseline period of 2 months, and a testing period of 8 months.
developed by Volvo Cars, Shell, SWOV, Cranfield, Cygnify, BMW Group and Virtual Vehicle