Real-time symbols to increase drivers' awareness of cyclists
Vulnerable road users are easily overlooked by drivers when they are crossing each other's way. Cyclists could be hidden from the view or drivers could have their attention elsewhere. MeBeSafe have found potential to nudge more than 60% of drivers to slow down or become more aware of crossing cyclists. 
Make drivers' more aware of potential hazards with vulnerable road users
A head-up-display projection of an intersection symbol, getting a notch from one side and changing colour when a potential hazard is coming from that direction
Augmented reality, Awareness
56% of drivers look more to the right direction and up to 64% decrease their speed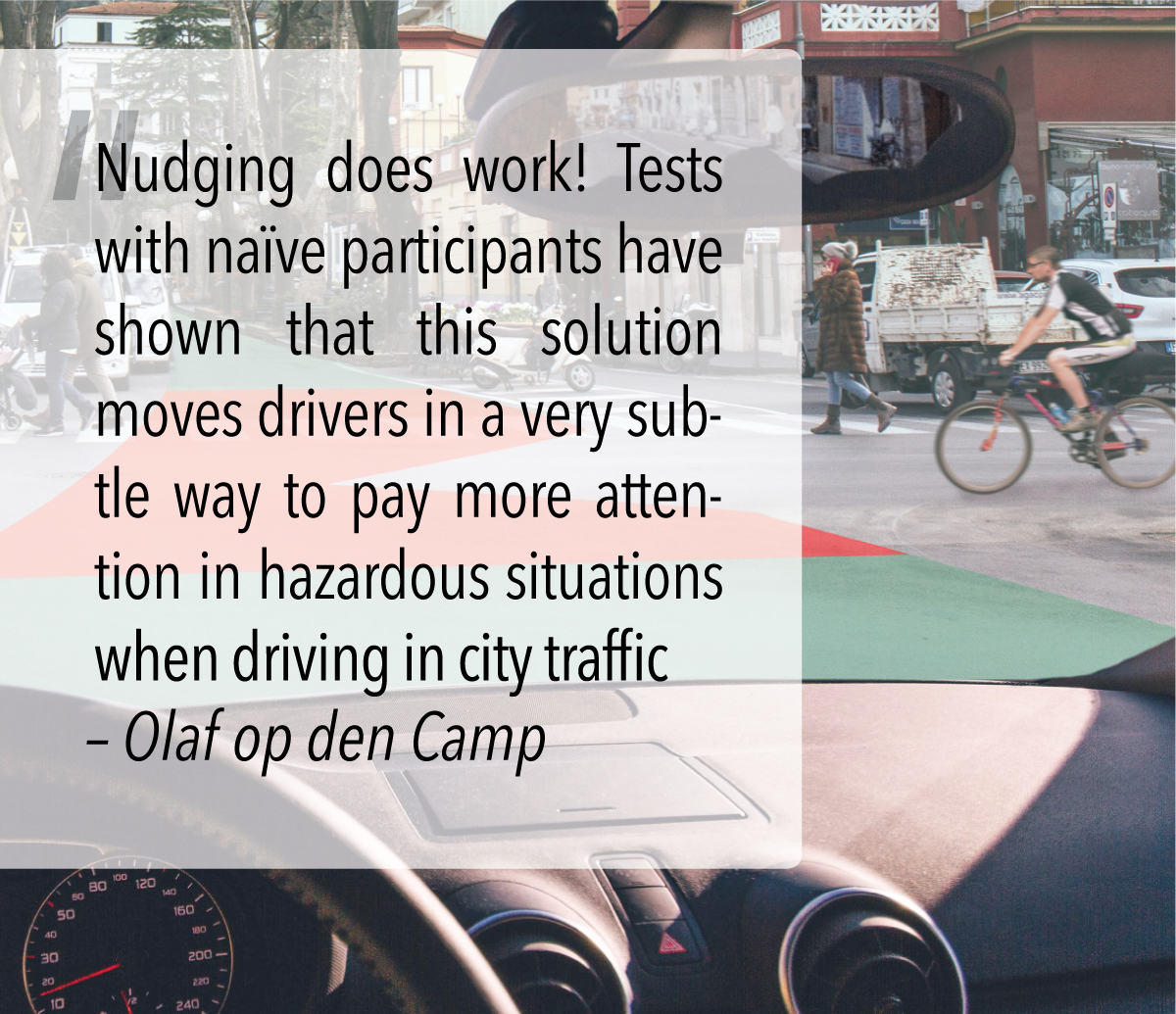 Up to 30% of all accidents occur because drivers are not looking properly for traffic potentially crossing their path. Some cars have installed automatic braking features, but they only come into action when a road user is directly in front of the car and a collision is imminent. This could be too late.
MeBeSafe's measure is based on a projection in a head-up display, coinciding with the intersection a driver is just about to enter. The projection is a schematic representation of an intersection shown right above the steering wheel. When the car approaches an intersection where cyclists are about to cross, a notch will appear from that side and the colour of the intersection will change from green to orange to red.
It adresses both the local static hazard, as well as the dynamic hazard. The static hazard is based on the risk of an accident at a specific location. This is useful when approaching cyclists are hidden behind obstacles. The dynamic hazard considers cyclists in direct view of the vehicle. Using an AI-based cyclist prediction model, the risk that the cyclist is going to interfere with the vehicle in the upcoming seconds is estimated. This prediction model is one of the key innovations in MeBeSafe.
The test-implementation of the measure led to 56% of the drivers looking more to the appropriate direction, and up to 64% decreased their speed in 50 km/h speed limit zones. The HMI-measure was tested on 22 participants driving a prescribed 1-hour route in Eindhoven, measuring their direction of gaze and their speed. They drove the route twice to encounter both baseline and treatment conditions.
developed by TNO, ika at RWTH, Chalmers, Volvo Cars, Shell, SWOV, FCA, Cygnify, BMW Group, Offis and Virtual Vehicle