Letting truckers coach themselves with the help of data
Truck drivers are experts on the road, and the person with most knowledge to coach them is another trucker. MeBeSafe have designed an app that supports a peer-to-peer coaching scheme based on privacy-focussed data collection – and the empowerment concept has been met with very positive reactions.
Make truck drivers ride more smoothly
A mobile app collecting anonymous data, providing insights to the drivers and suggesting that they should meet a peer and coach one another on suggested topics.
Peer-to-peer coaching, learning-by-doing, voluntarism, non-monitoring
Limited data due to COVID-19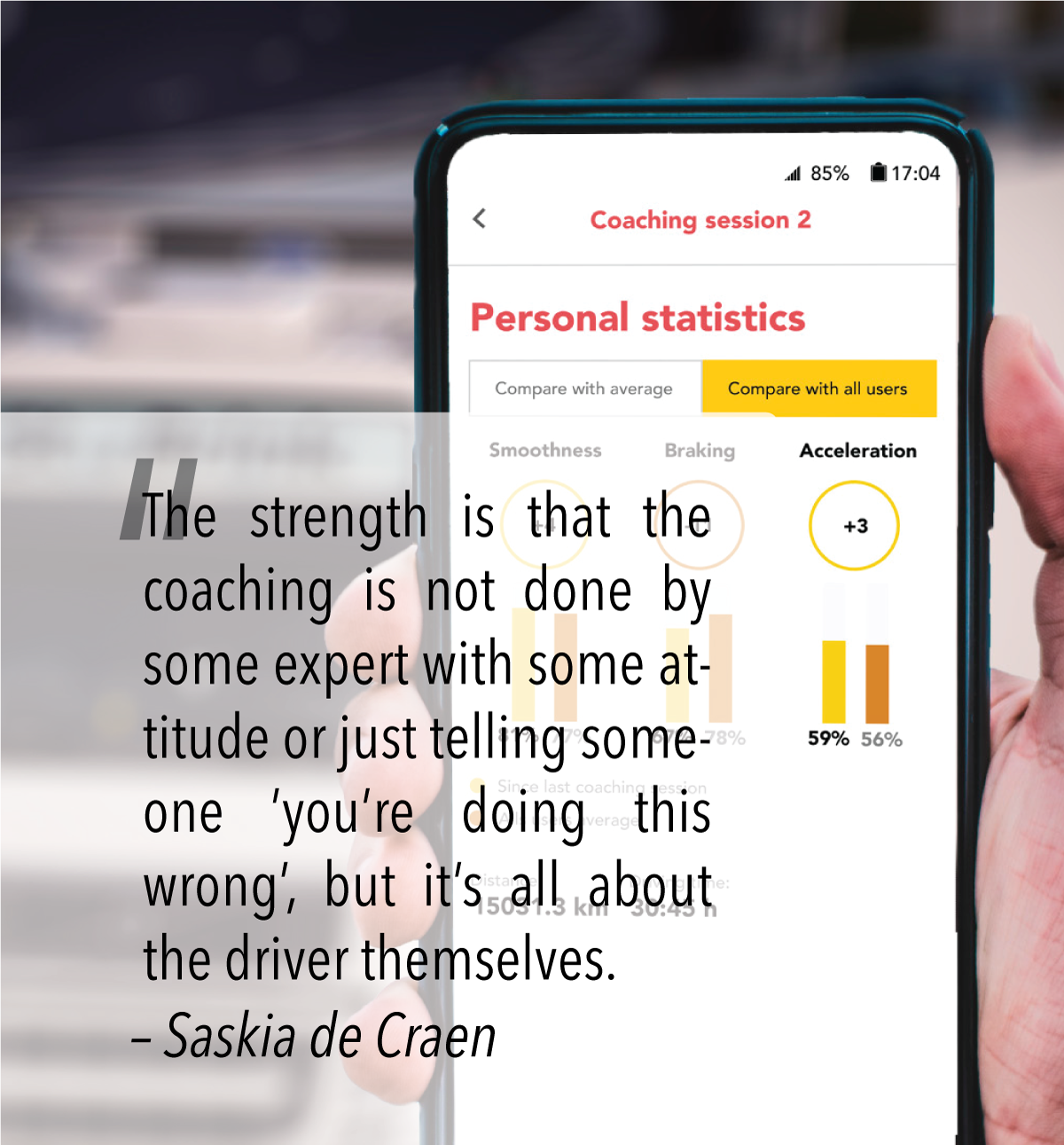 Truck drivers of today rarely have the opportunity to meet one another. They are usually away on long driving trips and have few fellows to talk to about their experiences. Truckers would need a platform where they can learn from each other.
This measure is based on a smartphone app, installed on a phone in their trucks. The app is started by the driver when they begin their journey and uses in-phone sensors to record driving data, such as acceleration and braking. If something special happens, the driver can press a button to document it. The data is collected anonymously, with the driver being the only one who can see it. No manager will have to monitor them. The truck drivers can use the data to get insights about their driving.
The app also suggests that two peers should meet each other and talk. It provides relevant reading material and videos that they could discuss during their session. Drivers are however free to meet and talk about whatever they want, and they only have to show their data if they like to. The scheme relies on freedom-of-choice without surveillance, to build trust.
Due to COVID-19, no evaluated effectiveness of the measure can be given.  Drivers were not able to meet and coach one another as planned, and many test drivers were laid-off. Drivers however seemed satisfied, as they kept using the app, even if it didn't work as intended. Interviews showed a very positive attitude from the truck drivers.
The measure was tested on 13 drivers in Norway, and 20 drivers in the UK.
developed by Shell, Cranfield University, Cygnify, Virtual Vehicle, SWOV, BMW Group and Volvo Cars.