Nudging the ITS community in Eindhoven
Eindhoven was the place to be last week if you are interested in the future of transportation. MeBeSafe was of course present and cradled a hefty number of bigshots into the cosy world of nudging.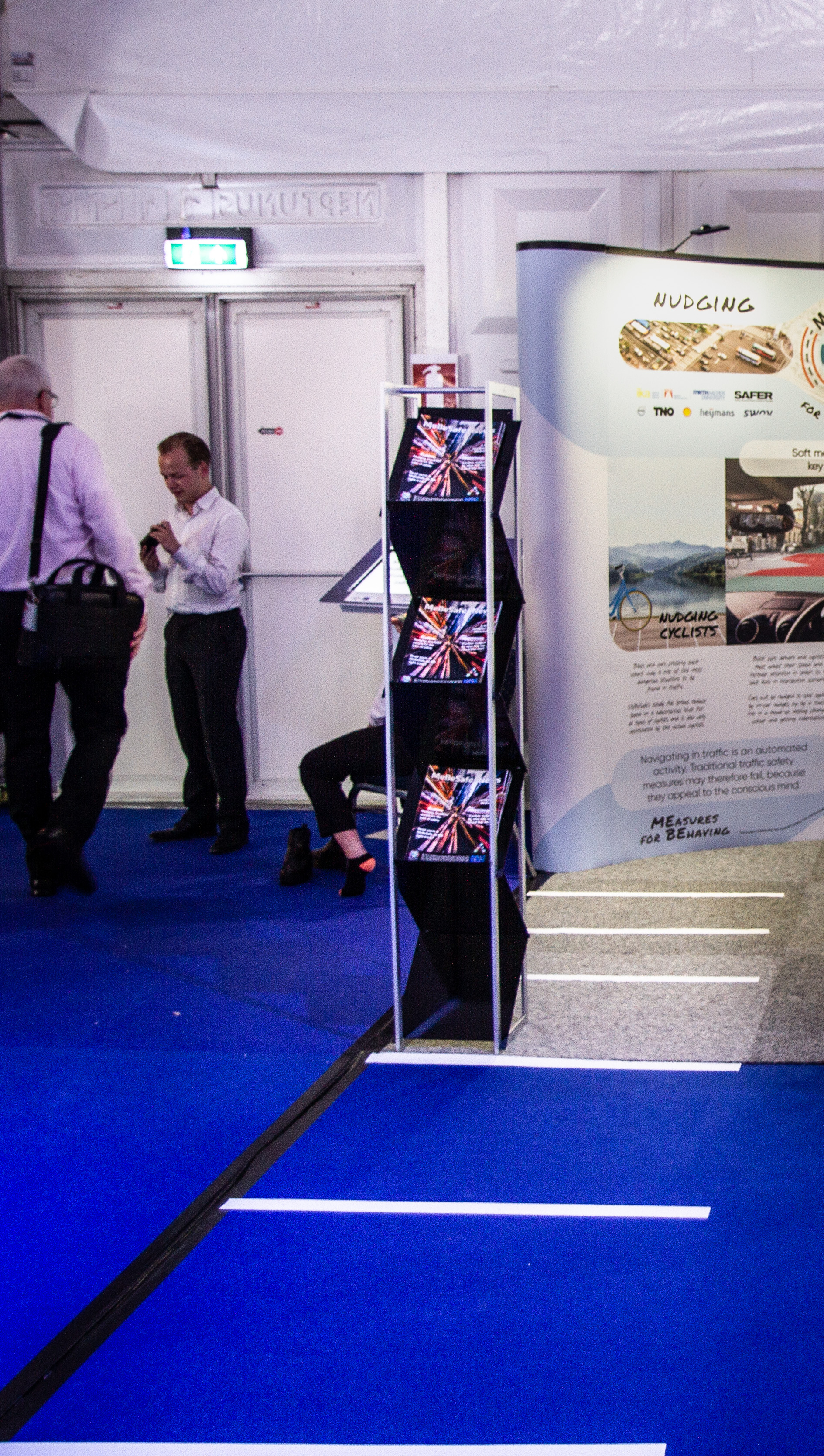 Some peculiar white stripes ran across the blue floor in an aisle at the ITS fair. What could this be? They seemed to be heading towards one particular booth. A booth about nudging and coaching. Now, this seems very fitting as the stripes more or less appeared to nudge people into this booth bearing the banner of MeBeSafe.
A great deal of visitors had never heard about nudging and wanted to know what this remarkable phenomenon was; the phenomenon that had just made them subconsciously move towards this one booth. Others were instead highly familiar with the concept but had never seen it applied to traffic safety before. All sorts of beings could be seen grazing the booth, from engineers to developers and Ministers of Transport. Germans, Australians, Russians, Singaporeans and a whole lot of others all got fed with the good news of nudging. And they all appeared equally amazed when they got to engage with the enchanting researchers manning the booth.
Visitors were not only nudged by the visual stripes or by the immersive video running on a screen to summarise the project. They could also experience a truly unique MeBeSafe nudge in real life. MeBeSafe's partner Heijmans organised excursions to a road exit just some blocks away This is not an ordinary road exits, but a road exit with rows of lights built into the ground. The light could start moving between the lights depending on your behaviour on the road.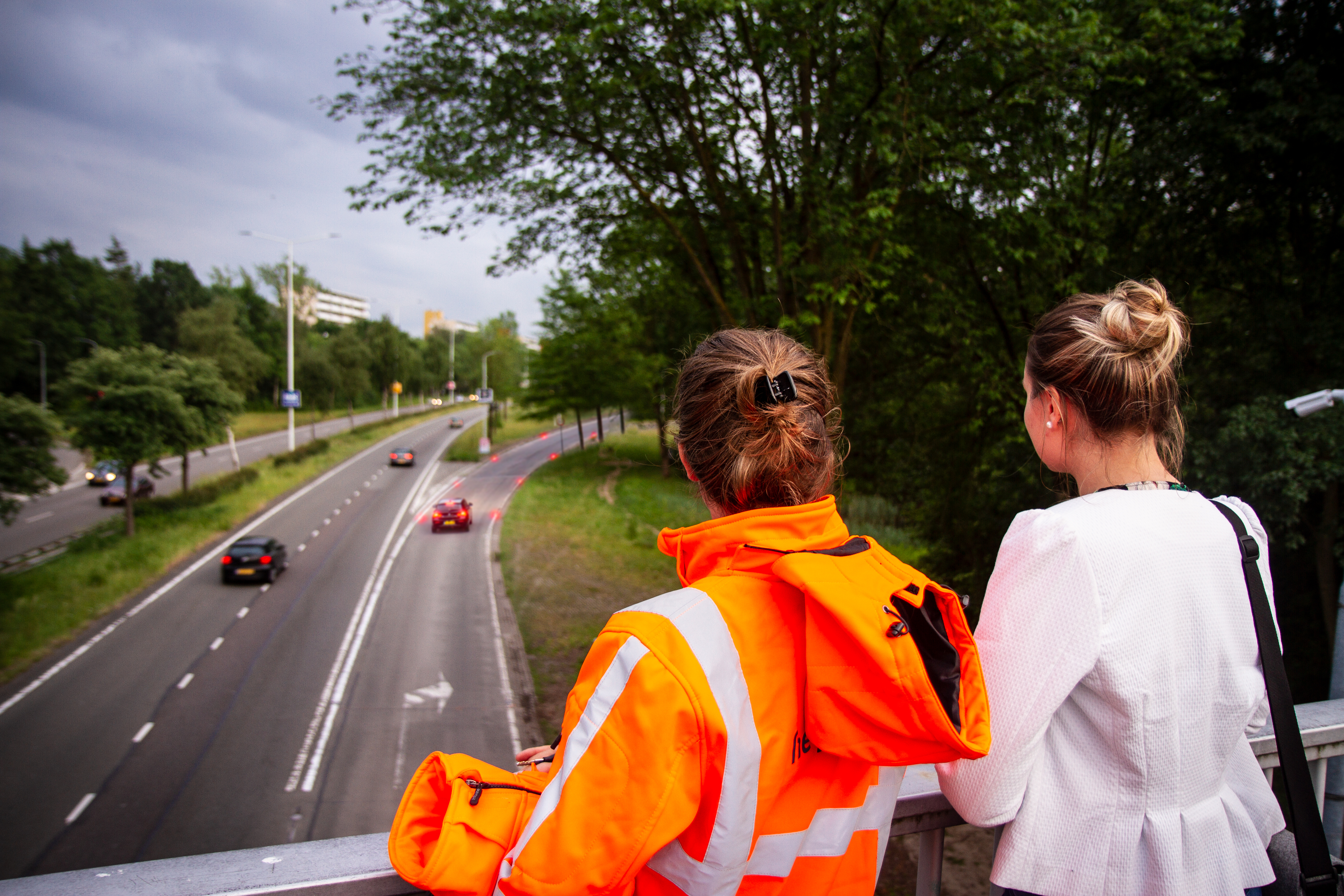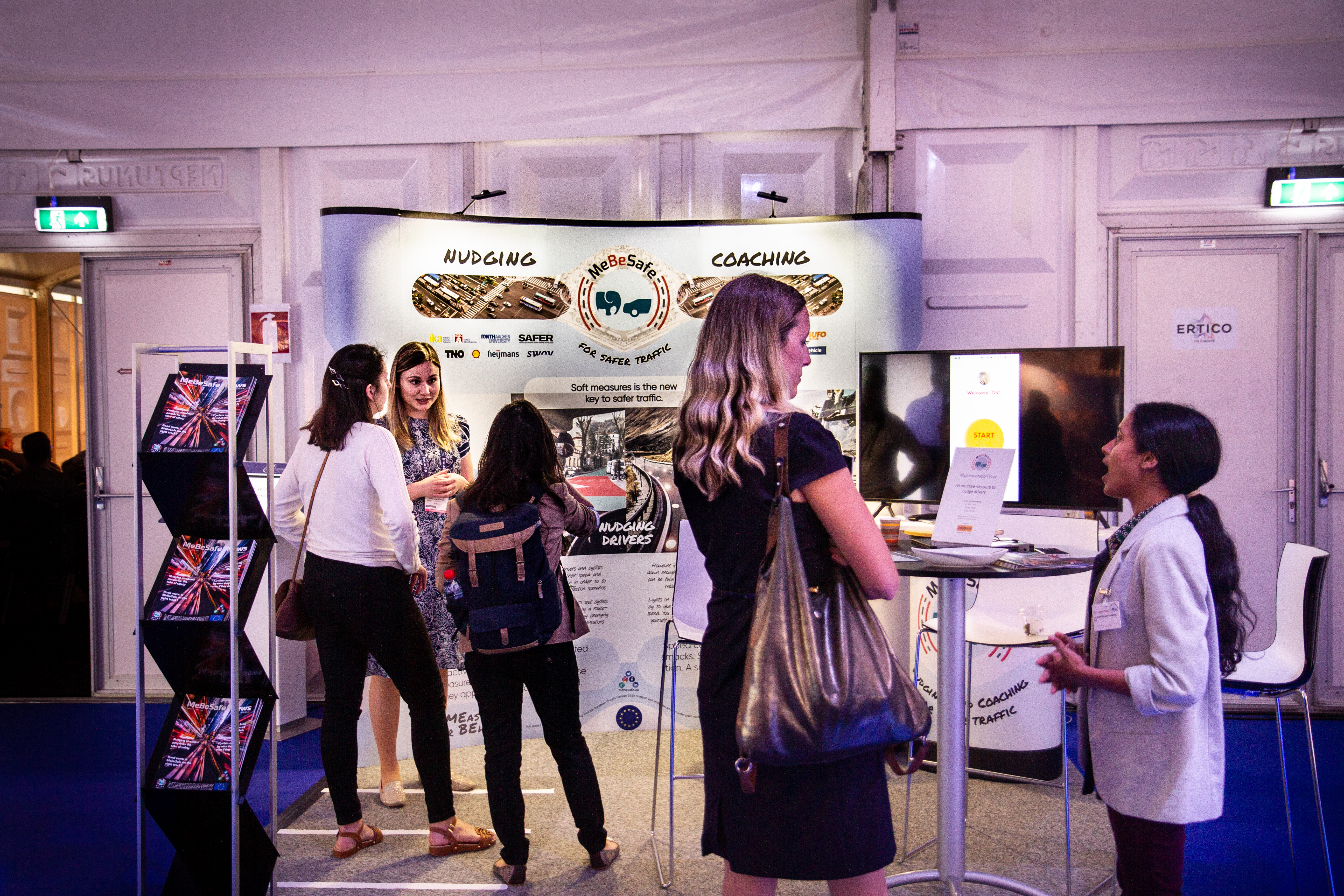 This novel fabrication was finished only mere days before the conference. More than a few visitors made the trip and they were not disappointed. 
Indeed, most of them wanted to know beyond this one nudge, and experience even more of what MeBeSafe has developed.
Except the obvious question what nudging really is, the most common enquiry was of course if the nudges really work. They seem so simple, so could they really affect behaviour; especially more than once, when you have learned what they want you to do? And in MeBeSafe's case, it really seems like they can. The nudges have been tried with really promising results so far, and will be evaluated further for even longer periods of time in the real world.
In the midst of all this lies another soft measure; namely coaching. MeBeSafe is developing a novel way of coaching truck drivers. This coaching is based on an app for truckers. Driver apps providing statistics of course exist in vast quantities, and many of their developers were actually visiting the MeBeSafe booth to see this particular app in action. And none of the others used total data integrity; not sharing the stats with a boss; or letting colleagues coach each others' as equals, as MeBeSafe is doing. It is not surprising that many conversations about future connections were held around the booth.
Several hundred people had already spoken to MeBeSafe, and a last rush was made on the final day when Anna-Lena Köhler made an official presentation in one of the Conference Seminars. MeBeSafe was no longer an unknown name seated in the outer rim of the conference halls. People were seen reading MeBeSafe newsletters all over the place, and nudging was discussed both here and there. Delighted with the enormous outreach, the researchers packed their bags and ventured home; safe in the knowledge that nudging and novel coaching will have secured a bright future in the field of traffic safety.